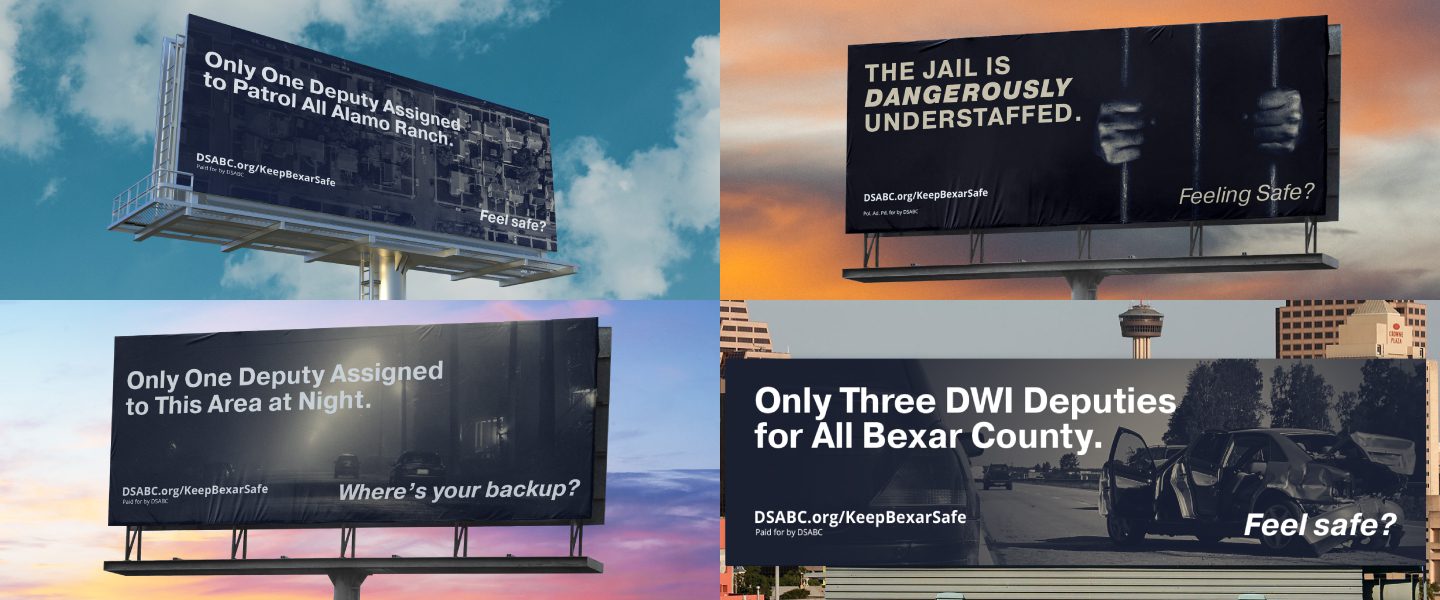 The Keep Bexar Safe Campaign is Back!
Our three new billboards went up this week. These are part of our effort to bring awareness to the residents of Bexar County of the dire public safety situation. Fiesta festivities are fast approaching, and many precincts have only one deputy patrolling for DUIs. This is the result of ongoing poor policy decisions!
If you find them scary, so do we. The BCSO remains drastically understaffed, and we will keep fighting until staffing improves.
What is wrong with how the BCSO is run now? Understaffing and mismanaged priorities are putting the residents of Bexar County and the deputies themselves at risk!
Understaffing has put the lives of deputies and Bexar County residents at risk. With fewer deputies, our roads are unsafe. Only two deputies are assigned to patrol DWI and intoxication incidents every night. One DWI takes 5 hours for a deputy to manage. If two DWIs occur at once, no deputies are left to protect law-abiding citizens from intoxicated drivers on our roads. 
With forces stretched thin, deputies' lives are in peril. Typically, only one deputy sheriff is available to respond to a domestic violence call for example. For comparison, SAPD has at least five officers respond to such calls. Our lone deputies are constantly walking into dangerous situations with no backup!
Our jails are also severely understaffed. At the end of 2021, there were more than 300 vacancies! With fewer deputies in the jails, our deputy sheriffs have little defense from aggressive inmates. Understaffed jails have resulted in criminals escaping, or being mistakenly released, endangering the lives of Bexar County residents. 
Staffing in the jails takes a toll on law enforcement – they can't pull law enforcement officers from the jail if the jail is already understaffed 
Favoritism within the BCSO is also working to help get certain people out of the jails compared to other detention officers who may have earned the position
The Jail is Short-Staffed.
Over 200+ Officer Vacancies.
Detention Officers are overworked and in danger.
16 "erroneous" releases from the county jail in 2019.
On December 12, 2019, two Sheriff's Deputies were brutally assaulted by inmates at the short-staffed Bexar County jail. One of the detention deputies was stabbed in the face and before that, another deputy was attacked, resulting in a broken leg that required reconstructive surgery.
The Sheriff is working Detention Officers overtime to fill staffing gaps. His mismanagement regarding recruitment has brought us to this crisis point, and things have to change.
It's time for the Sheriff to take staffing at the jail seriously. With over 200 vacancies, the jail is becoming increasingly dangerous for detention officers, inmates, and ultimately, our community.
Staffing issues may also be responsible for the fact that we had 16 "erroneous" releases of inmates at the jail in 2019, an unacceptable number, as there should never be erroneous releases.
2019 also saw 9 inmate deaths, including three suicides.
The Deputy Sheriff's Association of Bexar County (DSABC) believes that the Sheriff alone is at fault for this staffing crisis that's resulted in over-worked and over-stressed deputies who are having to do an already tough job in increasingly dangerous conditions.
The Commissioner's Court has done their part and given the Sheriff a budget that would allow him to fully staff our jail. But the Sheriff is not doing his job, which is to fill these positions and reach out to the community to recruit quality candidates.
Don't you think it's time for the Sheriff to finally take staffing seriously and fix the never-ending problems at the Bexar County jail?
Let your County Officials know that you support Sheriff's Deputies and want to keep our community safe by fully staffing our jail.
Get The Latest News
Sign Up For Our Mailing List